The cottage developments Moskvareka-Vasilievskoye, Syne-Ozero and Panovo provide an excellent opportunity to settle in a place where nature is not an antagonist to the well-developed infrastructure, where air and water remain pure despite relative closeness to the megalopolis. There will be a wide range of 150 to 400 square meter houses of various design to choose from. All of them are built from environmentally friendly materials (which is confirmed by relevant certificates). Moreover, all cottages are to be equipped with Internet and telephone lines.

Moskvareka-Vasilievskoye development is located at the short distance of the 70th km marker of Minskoye highway in one-hour driving time from the Moscow Ring Road. It includes 330 cottages sitting on 0.27 to 0.55 hectare plots. Most of the cottages are on a high hill surrounded by forest covering about one third of the development area. The hill offers a panoramic view over the Moscow river banks.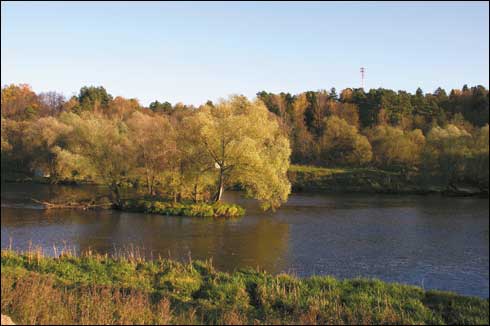 The Moscow River near Vasilievskoye estate of A.I. Gertsen
---
Moskvareka-Vasilievskoye cottage development is a combination of built-up and open areas connected with a recreational meadow by a network of local roads and alleys. Along the recreational meadow runs an ancient linden alley once leading to the Shcherbatovs manor's outbuildings. The Resurrection Church is the only surviving historical building there. On the opposite high bank of the Moscow river, which is connected with Vasilievskoye Village by a foot-bridge, is the main house of Count Shcherbatov manor - a genuine castle showing elements of the English Gothic, with a rampant ancient park. The castle now houses A.I. Gertsen museum (whose family owned Vasilievskoye in the first half of the 19th century). Not far away, there is a holiday home of the Presidential Administration. The place is the starting point of numerous sightseeing tours - local villages, manors, churches and cloisters are closely associated with many notable events and personalities of the Russian history.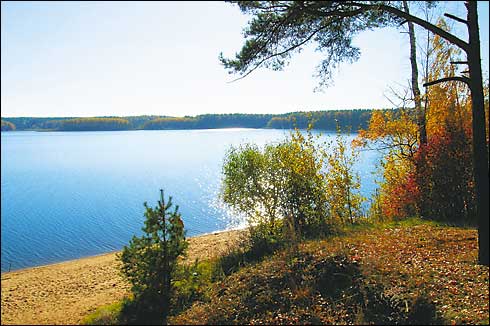 View of Ozerninskoye Water Reservoir
---
Service facilities of Moskvareka-Vasilievskoye development include a supermarket and a sports center with an indoor tennis court, gyms, a sauna, a beauty parlor, and a 700 square meters swimming pool. The development will feature a Riding Club offering an indoor arena and a stable where horse owners would be able to keep their horses throughout the year. The club would organize riding outings, sledge rides, outdoor festivals. There development would also boast of numerous sport- and playgrounds, walking zones and a "Flowers park" located on the site and in the recreational meadow park.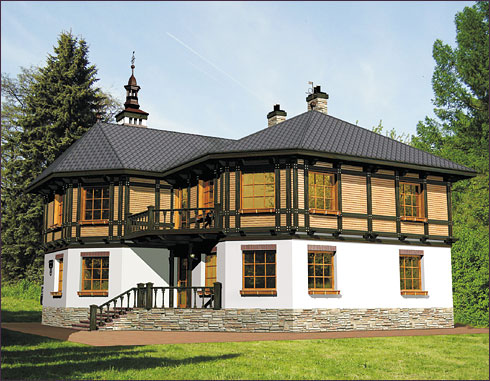 ---
The cottage development Syne-Ozero would lie on the gently rolling shore of Sychevskoye Water Reservoir at the 80th kilometer marker of high-speed Novorizhskoye highway, a 40-minute drive from the Moscow Ring Road. It would look more like a cottage town - 780 houses, the smallest of which 150 square meters, sitting on plots of land starting from 0.2 hectares. The development would combine the charm of suburban life with the comforts of the urban one. It would feature a supermarket with optional home delivery service, an indoor sports center with a swimming pool, a fitness center, a beauty parlor, a restaurant, a bowling facility, a billiard hall, outdoor sport grounds, a beach with a booting station and a cafe. A kindergarten, a school, a medical center, utility, maintenance and community services would be available as well. In addition, it provides the very things for which people strive to move out of the city - clean air and unspoiled nature. It is no coincidence that the nursery of the Moscow Zoo set up its camp not far away.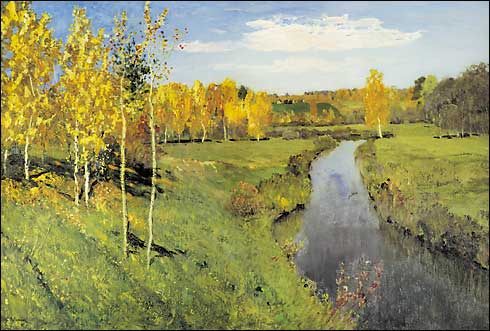 I. Levitan. Golden Autumn. 1895
---
There at Syne-Ozero site it is always warmer and dryer than in the vicinity - a peculiarity resulting primarily from the local relief features. The nearby shore of the Sychevskoye Water Reservoir houses a fishing base offering accommodation and boats to general public. There is a pond stocked with food fish on site, and the rental center is always willing to provide guests with all necessary equipment for enjoyable fishing.

The cottage development Panovo is located at one-hour driving time from the Moscow Ring Road along Novorizhskoye highway via Zvenigorod or along Minskoye highway via Tuchkovo, near the homonymous downhill ski resort. The structure of the development is similar to that of Syne-Ozero.

In addition to well-developed local infrastructure, residents of Moskvareka-Vasilievskoye, Syne-Ozero, and Panovo developments can benefit from the unparalleled external infrastructure offered by ROUZA A LA SUISSE resort centers. For example, driving time from Moskvareka-Vasilievskoye to Bunino country hotel with its golf courses, equestrian park, yacht club and spa center is only about 30 minutes, that from Syne-Ozero development to the Safari Park is 10 minutes, and Panovo cottage development is located in the immediate vicinity of the Moscow Region's largest downhill ski center.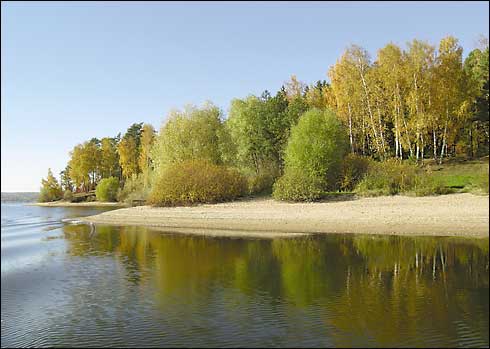 Ozerninskoye Water Reservoir shore