The Rusa district has been compared to Switzerland since long ago. Like Switzerland, it is endowed not only with picturesque meadows and evergreen forests but also with beautiful heights. The unparalleled landscape of ROUZA A LA SUISSE LUXURY RESORT IN RUSSIA site with considerable elevation changes, coniferous woods and water basins is ideally suitable for winter sports. PANOVO downhill ski resort, Moscow region's biggest and best-equipped facility of its sort, able to serve up to 10,000 persons per hour, is to be launched there within the next few years.

Panovo is a downhill ski center with the elevation change exceeding 150 meters and the length of the slopes 500 meters to 1 kilometer. It would feature 26 slopes plus 180 meters long and 80 meters wide beginners' slope - an unprecedented quantity for downhill ski resorts in the European part of Russia. Some slopes would be equipped with lighting for late-hour skiers' convenience. Furthermore, three of the slopes would undergo homologation procedure (evaluation of ski lifts, slopes, elevation changes, etc.) to attain the European Cup level for international slalom and snowboard competitions.

The program calls for development of a special tubing run and a world-class snowboard park extending for 600 meters and including bordercross and Big Air facilities and Olympic-standard halfpipe. For guest convenience there would be installed up to 15 high-speed 4 and 6-chair ski lifts with accumulating facilities. Each ski lift capacity is 1,800 to 2,400 persons per hour.

The resort would also include children's village with play- and sports grounds, a ski slope and a kindergarten facility. Panovo guests would be able to leave their children for a whole day under the supervision of qualified personnel there. A ski academy employing more than 80 instructors will be opened, and a sports school for children.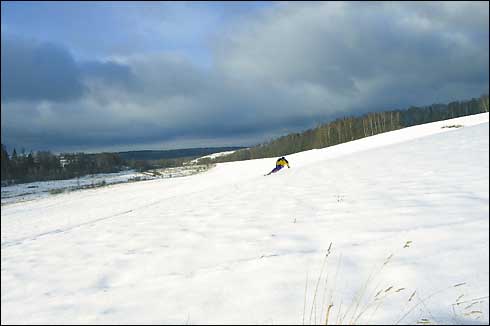 Panovo downhill skiing slope
---
Furthermore, the center will include two 3-star country hotels offering 150 bedrooms and 250 chalets, each able to accommodate 2 - 5, 5 - 10 or 26 - 30 persons. The resort guests will enjoy restaurants and disco bars and take advantage of pools, a sauna and a sports center. At the resort entrance it is planned to build parking lots of 3000 car capacity.

The task of maintaining slopes in ideal condition would be made easier thanks to snowcats, snowtampers, snowgroomers, and sophisticated artificial snow system on all the slopes. Guests will be able to rent any sports equipment in the resort's service center, again the biggest one in Moscow area, or be able to buy it from a specialized shop located on the site.

Panovo is an ideal place for relaxation and recreation for all ages, not only in winter, but in all other seasons of the year as well. There would be outdoor tennis courts as well as fields and courts for such team games as volleyball, mini-soccer, basketball and paintball. The resort's own lakes would provide an opportunity to engage in water sports or just spend a few relaxing hours near the water - there would be a yacht club, a boating station and a beach. Water skiing would be available as well, thanks to a special ring-shaped water-skiing route, an uncommon facility in Moscow Region.

A fishing fan would also find a pleasurable activity here. The pond will be stocked with food fish, and the required equipment will be available in the rental center. The resort project provides mountain and street bike routes as well. There will be a site for survival racing, a shooting facility (trap shooting and archery), a kart course, and an open-air roller-skating center. The resort guests will be able to practice summer tubing on a special artificial-surface run. Other summer options would include an artificial-snow slope for skiing and snowboarding. Irrespective of the season, a scenic flight over Panovo resort and the adjacent area by helicopter, hang-glider, paraglider or kite would be an unforgettable experience for everyone.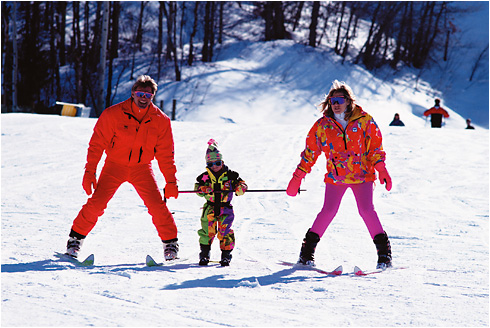 ---
Driving time from the Moscow Ring Road to the downhill resort Panovo along Novorizhskoye highway via Zvenigorod or along Minskoye highway via Tuchkovo is only one hour. Scheduled special busses will deliver guests to the resort from Tuchkovo railroad station in ten minutes or from Zvenigorod station in twenty minutes.

The features of Panovo resort will allow it to surpass all the downhill ski centers located in the Moscow region along the Dmitrovskoye highway.