One of the most stylish and aristocratic games, golf has a very long history and a huge number of admirers all over the world. The things valued in golf are precise strokes, strategic thinking and strict adherence to etiquette. Another important component of golf is its aesthetic aspect - beautiful movements, relaxing and friendly atmosphere providing good opportunities for socializing, picturesque landscapes. In Russia golf is reserved for the affluent, and a golf club is an ideal place to expand business connections.
ROUZA A LA SUISSE LUXURY RESORT IN RUSSIA program envisages three 18-hole golf courses - two at Bunino and one at Acatovo country hotels, each of 70 hectare areas. One of the Bunino golf courses, the championship class one, is designed to host not only domestic tournaments but also international competitions. The project offers ideal conditions for national golf team training.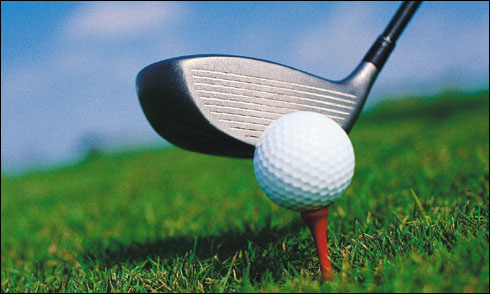 ---
Green hills, picturesque courses offering unforgettable views over glass-calm waters of the reservoirs, clean environment, absence of distracting sounds - there is no other club in Russia able to offer comparable advantages. Therefore Bunino and Acatovo golf clubs will undoubtedly join the list of the most popular international golf destination, and ROUZA A LA SUISSE will be the busiest golf resort in the Moscow region. Participation of famous golf designers is another important factor contributing to the project success. Bunino country hotel would feature two golf courses, and should the need arise to repair or modernize one of them the club members will be able to use the second one.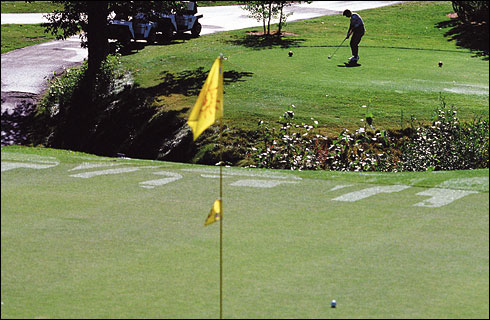 ---
Each course of the resort is to have its own unique character. The championship course is lower and close to the water, other courses delight the eye with no less appealing landscapes and are quite picturesque. The most sumptuous Ruza manors would be located on the edge of the golf courses. This - harmonious combination of superior sports facilities, water basins and private estates - is widely recognized all over the world. Noiseless, environmently-friendly electric carts would not only service the golf courses but also make an ideal transportation vehicle for all areas adjacent to the country hotels. They would further facilitate an access to various resort facilities.
Needless to say that Bunino and Acatovo golf clubs will have all prerequisites for comfortable rest and relaxation. The club houses would feature changing rooms, saunas, steam baths, restaurants facing the golf courses and water reservoirs, and pro shops selling and lending a wide range of professional golf equipment and accessories. The selection is to be quite rich: brand golf-clubs such as Callaway, Ping, Taylor Made, different-size clubs, clubs suitable for women, children, left-handed persons. Each golf resort would have a golf academy run by experienced golf professionals and featuring premium quality training site. This will help the beginners to learn the ABC of golf and provide an opportunity to play to those with no official handicap, to children and adolescents.
Bunino and Acatovo golf clubs will be of the semi-private type. Membership in the club will grant considerable benefits. For example, the championship course access will be unavailable for visitors and restricted for golf tourists. For club members the project will have separate changing room, VIP-hall in the restaurant, and private parking space. Only they will enjoy free access to the championship course and preferential reservation for rush hours. The club clients will include such categories as members and their guests, golf tourists, visitors, and corporate events participants. Corporate events servicing will become one of Acatovo resort specializations.
Bunino golf club is located within an hour drive from the Moscow Ring Road, while the driving time to Acatovo golf club along Novorizhskoye or Minskoye highways will be about one hour and twenty minutes.