5-star country hotels BUNINO and ACATOVO will be located on the shores of the most beautiful reservoirs of the Moscow Region - Ozerninskoye and Ruzskoye Reservoirs. The structure of the hotels was designed in light of the experience of major European resorts. The project monitoring will be performed by world class experts, having experience of similar hotel development, such as La Meridien, Marriot Group, Hyatt Group, One and Only.
5-star country hotel Bunino comprises the main building with a 120-bedroom hotel and a conference hall for 80 persons, and 150 separate two-storied guest villas. The main building would feature a sports center with a gym and a swimming pool, a spa-center, a beauty parlor, a billiard room, a bowling facility, bars, restaurants and boutiques. Multi-mineral brine for the spa-center is extracted on the site from the depth of 1 kilometer, and its composition is similar to that of the Dead Sea water. An open-air ice skating rink will be made in front of the hotel building in winter. The resort would feature a golf club with two 18-hole golf courses, including a championship class course, which is unique for the Moscow region, an unparalleled equestrian park with show jumping and dressage arenas, polo field, and horse trails running through the most picturesque corners of the resort.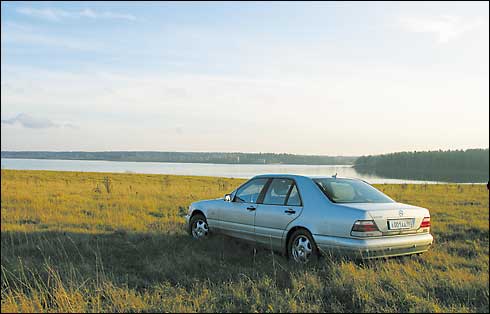 View from the doorstep of the future Bunino country hotel on Ozerninskoye Water Reservoir. Late autumn. Mercedes cars are already parking at the Bunino country hotel
---
The project envisages outdoor tennis, badminton, basketball, and volleyball courts as well as mini-soccer field. For sailing sports such as yachting and windsurfing there will be a yacht club on the shore of Ozerninskoye Water Reservoir with a white sand beach only a kilometer away. The country hotel will offer a splendid view over the picturesque Ozerninskoye Water Reservoir and Volynshchino village with an ancient manor house and church on the opposite shore.

5-star country hotel Acatovo would be ideally suitable for corporate events, business trainings and conferences. The hotel complex would feature a 120-bedroom hotel, 100 two-storied guest villas, a business center with three conference halls with a 50 to 150 person capacity and about 15 negotiation rooms, boutiques and restaurants, a spa center, and a beauty parlor. There would be a sports center located in a separate building. The project envisages indoor and outdoor tennis courts and team sports fields, including 2 soccer ones. Just like Bunino, the resort complex would feature a golf club with a high-class 18-hole course (for more details see the "Golf Clubs" unit), an equestrian park with show jumping and dressage arenas, a polo field and horse trails running through the most picturesque corners of the resort. There would be a yacht club on the shore of the perfectly clean Ruzskoe Water Reservoir.

Bunino and Acatovo country hotels are designed to be fun for children as well, for whom the project plans demonstration farms where they will be able to watch calves, geese, turkeys, rabbits, piglets, and even hedgehogs. Each farm would feature a tavern specializing in ethnic and rural cuisine. All this is denoted as "agricultural tourism" in Western Europe.

Along the periphery of the golf courses and the picturesque shoreline on the site of the country hotels would be the most sumptuous manors of ROUZA A LA SUISSE, making the resort environment even more harmonious. The program envisages 120 manors in Bunino and 200 in Acatovo. Private estates are part of all renowned golf resorts in the world, and ROUZA A LA SUISSE LUXURY RESORT IN RUSSIA program is no exception.

Driving time to Bunino country hotel from the Moscow Ring Road along Novorizhskoye or Minskoye highways is one hour; a drive to Acatovo country hotel will take an hour and twenty minutes. However, there will be an option of reaching the facilities even quicker - each of the resort complexes will feature two helicopter pads.