Ruza District, Moscow Region is located to the west of Moscow between Novorizhskoye and Minskoye highways 70-120 km away from the capital's downtown. The district has a well-developed road network; the Second Concrete Ring Road crosses it from the north to the south. ROUZA A LA SUISSE is easily and freely accessible by Novorizskoye, Minskoye, or Rublevo-Uspenskoye highways.

Novorizhskoye highway is a recently built high-capacity speedway with quality surface, which is constructed with due regard to all modern road quality requirements. This road will serve the prospective executive developments. It crosses no cities, old villages or dacha developments, which makes driving along it a rare pleasure.
---
Novorizhskoye highway forms a part of the federal route M-9 "Baltiya" that connects Moscow through Volokolamsk with Riga. Leaving Moscow as a 6-lane highway, it runs most of the distance as an asphalt concrete road of 7 to 8 m curb-to-curb width. The route goes mostly through a gently rolling country. Thanks to low traffic flow, it usually takes 40 minutes to 1 hour to get from Moscow to different parts of Ruza district.

A main road connecting the Garden Ring with the Moscow Ring Road and Novorizhskoye highway, which is presently under construction in Moscow, adds to investment appeal of the Novorizhskoye sector lands.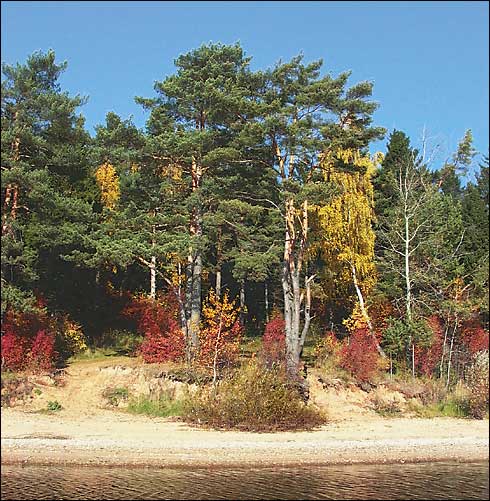 Pines on the shore of Ozerninskoye Water Reservoir
---
Minskoye highway is a part of the federal route M-1 "Belarus" connecting Moscow with Warsaw through Smolensk and Minsk. Minskoye highway leaves Moscow as 4 lanes. For the most of its length it constitutes an asphalt concrete road with curb-to-curb width 11 to 12 meters. The road goes through flat wooded terrain without steep rises or falls. High investment potential of the Minskoye sector lands is partially attributed to the federal government's plans to launch its modernization in 2006-2007 to turn it into a modern speedway.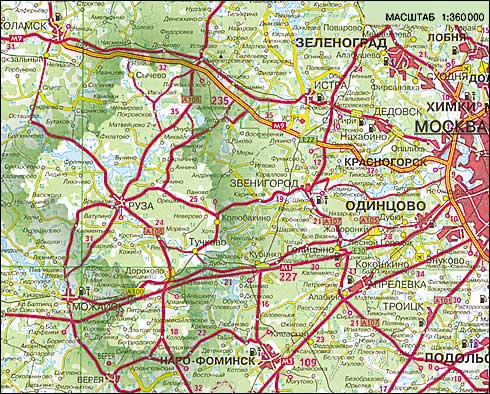 ---
ROUZA A LA SUISSE is also accessible along Rublevo-Uspenskoye highway, the "governmental" route. Rublevka sector is a VIP area. By driving along this route to Nikolina Gora and taking the road to Zvenigorod, residents and guests of ROUZA A LA SUISSE will be able to reach the local road to Ruza bypassing the Novorizhskoye or Minskoye highways.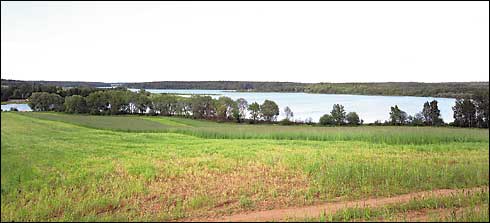 Ozerninskoye Water Reservoir. A creek near Bunino
---
Rublevo-Uspenskoye's official name is Route A-105. It leaves Moscow as 2 lanes with impeccable surface. The road is lighted and secured. The number of road accidents here is negligible. Right after leaving Moscow the route dives into the forest and then goes along the left bank of the Moscow River. The feature that singles out Rublevo-Uspenskoye is its well-developed service infrastructure. There are numerous retail outlets, cafes, restaurants, gas and service stations along it. Unspoiled nature, picturesque green landscapes, and splendid views turn the drive itself into a relaxing experience.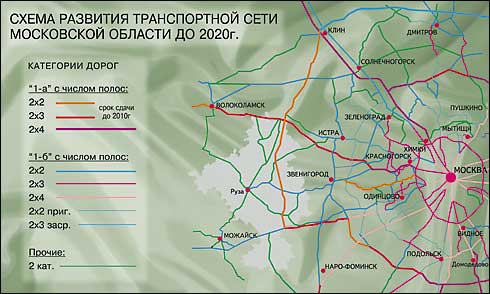 ---
A new Central Ring Road (CRR) is to be constructed in the Moscow Region in the near future and will facilitate active development of tourist and recreational activities in Ruza District. According to Moscow Region Development Program until 2020, the construction of the route would involve the widening of the existing ring road and the building of grade-separated intersections with all radial routes. CRR is to become a first-rate route, an artery of a mammoth importance not only for Moscow and Moscow Region, but also for some European routes.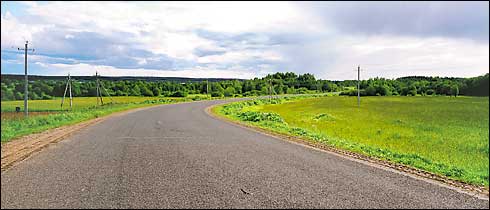 A stretch of the road - no traffic jams here!
---
The new CRR would cross Ruza district from the north to the south, thus providing an additional access option to all facilities of ROUZA A LA SUISSE. However, those benefiting most from the new road will be guests of Panovo downhill ski resort.